Technology
Systems in sync
Interoperability has the potential to propel innovation in mining
Interoperability has the potential to propel innovation in mining
By Alexandra Lopez-Pacheco
August 31, 2016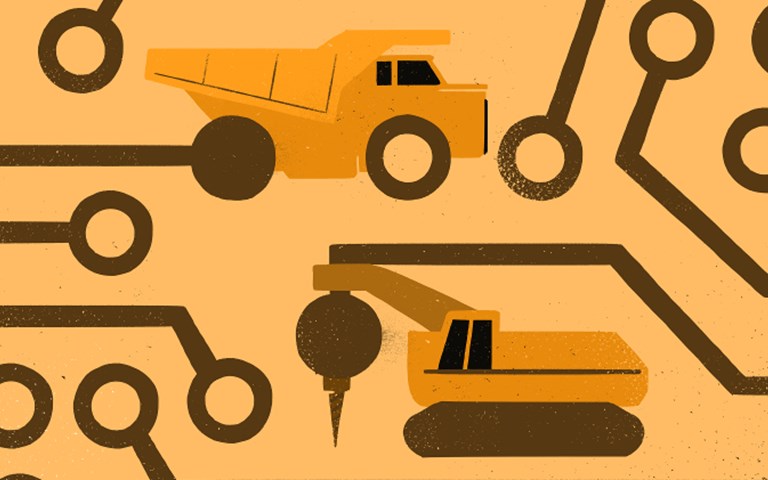 Mining may be innovating, but in an outdated, piecemeal way. The industry has yet to pick up the 21st century tools possible of creating the disruptive and transformative breakthroughs that have catapulted other industries forward – until now.
Information, communications and control systems technology are spreading across every corner of a mining operation. Mineral processing plants are using automation to optimize better and faster than ever before. Digital, GPS, Wi-Fi and sensor technologies are being used on mobile mine equipment to improve safety, productivity and efficiency, as well as reduce collisions and optimize performance and maintenance.
One of the most highly touted advancements in the industry has been in the realm of autonomous equipment, as heavyweight mining companies such as Rio Tinto, BHP Billiton and Fortescue Metals Group have demonstrated on a large scale. At Rio Tinto's operations centre in Perth, Australia, 400 employees remotely control all of the company's 15 iron ore mines in Pilbara from more than 1,000 kilometres away as well as its heavy haulage railway system. Fortescue's Solomon Hub mines in Western Australia have 47 Caterpillar autonomous trucks working 24 hours, seven days a week. BHP Billiton is also conducting trials with a fleet of 15 Caterpillar autonomous trucks at one of its Pilbara mine sites. The company is also implementing 20 autonomous blasthole drills made by Atlas Copco across five of its Pilbara mine sites that, by the end of this year, will start to be operated remotely from the company's Integrated Remote Operations Centre in Perth.
This is just the beginning. "As sensor technology improves, automated loading tools will become the norm [and will continue to evolve], as will automated mining trucks, drills and tractors," said Michael Murphy, chief engineer of mining technology at Caterpillar. "The autonomous mine is a lot further along than most mining organizations acknowledge." All this innovation is taking place in silos. Each manufacturer is independently developing its own equipment with its own software and systems. Processing plants have their own systems. Mining excavation has its own controls and operators.
"We have several automation initiatives underway across our organization that aim to deliver improvements in safety, increase productivity and reduce our overall operating costs," said Graeme Mitchell, manager of mine automation at BHP Billiton. For example, a trial drill program of the fleet of autonomous drills at BHP Billiton's Pilbara mines have cut operating costs by more than a quarter. But autonomous mining alone is not BHP Billiton's ultimate goal. "All these initiatives are key enablers on the journey to an integrated mining ecosystem."
Incomplete information
A fully integrated operation that can optimize safety, throughput and production, and greatly reduce costs by integrating and sharing processes, systems and information across operating functions is the next big step for mining companies. Such an advance could help convert mining from a batch process to a continuous one that would dramatically minimize the need for stockpiles, said Colin Farrelly of Indago Partners, a management consulting firm that specializes in innovation in the mining industry. But to do that, mining companies need to be able to access the data on all the sensors, GPS and software systems across their operations, from mine planning to blasting, excavation to haulage, and processing to delivery. The problem is that each OEMs' proprietary operating system puts a tight limit on how much data can be accessed by another manufacturer's systems and equipment. Caterpillar's autonomous equipment works best with the Cat MineStar System. An Atlas Copco drill works best on Atlas Copco's operating system. Mining operations today remain largely a Tower of Babel in terms of data communication across systems.
The reality is, "there is a lot of information stored in intelligent machines and in mine planning systems," said Mitchell. "But typically the information sits isolated in proprietary systems that don't easily communicate with one another, making it challenging to share and move the information between the systems."
Mining engineer Peter Carter, who worked with Komatsu in implementing the first driverless haul trucks, agrees. Today, he is industry principal for metals and mining at OSIsoft, a technology company whose PI System breaks down some of the barriers by connecting sensor-based data and systems to help companies optimize their operations. He said he believes the potential for mining optimization from data used across equipment and systems is enormous and gives an example:
"When drilling machines drill blastholes, there is a lot of data that can be collected that characterizes the rock being drilled. That data, based on the hardness of the rock and the amount of torque the drill consumes, can be correlated against the original geological model and better map where the ore is and how to preferentially blast and fragment the materials," said Carter. "All the other parts of the process then follow that drill. As the material passes through the value chain from drill to load to haul, the information can flow with it."
Similarly, sensors on haul trucks used for autonomous machine guidance collect data that could also be useful for geological mapping as well as for such things as road maintenance. "If you have excessive vibration in one truck during haulage, your problem is likely in the engine, but if you have multiple trucks vibrating then maybe your problem is the road and the challenge is figuring it out," said Farrelly.
Plug and play
The explosive that can blow open the walls and blockages impeding integration, agree most today, is interoperability. Farrelly of Indago defines it as, "The ability of information and communication technology systems, operational technology systems and the business processes they support to exchange data and to enable both the sharing of information and the transfer of control. This, in turn, provides the ability of systems and organizations to seamlessly work together (inter-operate)."
While there are different definitions for interoperability, the one above was developed by Indago through consultations and research with 88 individuals from 66 organizations across the mining industry, including mining companies, OEMs and vendors as well as consultants, engineers and operational technology manufacturers. His research findings – which he conducted for AMIRA International, a global member-based organization of mining and suppliers – were published in April 2016.
Simply put, interoperability is when all equipment and systems in a mining operation can seamlessly connect and communicate with one another and operate together, regardless of manufacturer. "This is where things can fit together and talk to each other and various systems can be linked and operate as a whole rather than silos of single solutions," said Tim Skinner, president of SMART Systems Group and a consultant who has worked on the evolving challenge of interoperability in mining for decades. You can plug and play all pieces together. That is what we're after." It is certainly what mining companies such as Rio Tinto and BHP Billiton are after. But when it comes to interoperability, said Farrelly, mining is 20 years behind other sectors, including manufacturing, agriculture, and oil and gas.
There is, however, one exception: mineral processing.
"Mineral processing plants have a far higher level of automation and interoperability, but the reason for that is not because the mining industry did anything about it," said Farrelly. "It's because building a mineral processing plant is essentially no different than building a factory or an oil platform. They're all versions of a processing plant so all of the technology that you put into a mineral processing plant is designed by the same vendors who have done it in other industries that are at a higher level of technology development underpinned by industry standards."
John Mulcahy, manager of mining systems at Rio Tinto Growth and Innovation, would like to see that level of interoperability reach the rest of mining. "In a well-designed processing plant control room, an operator uses one set of screens that allows them to do everything they need to do, so it's a very integrated operating environment, there's no jumping from one system to another and you have a very structured human-machine interface that is aligned with all their processes," he said. "When you look at things such as surface mining and fleet management, you have different systems and platforms that a person has to jump between. If you have a piece of equipment that can't talk to anything else, even if it can move tonnes, drillholes or do whatever, it's not as valuable as another piece of equipment that can perform those tasks as well as interoperate."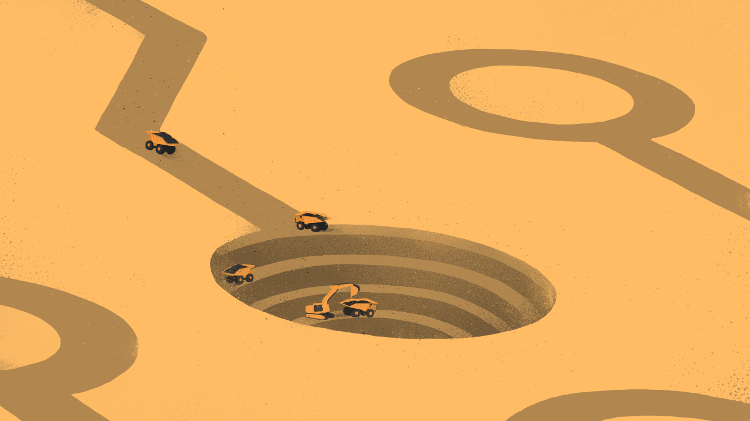 Unbounded opportunity
Interoperability is what turned the World Wide Web from a technology fraught with limitations and competing networks in the 1990s to the world-changing technology that is today an endless universe of innovation that has transformed our world with once unimaginable possibilities. It is what makes it possible to transfer data from any PC by any manufacturer onto any USB device or to download a plethora of apps onto Android smart phones from any manufacturer.
"Plug and play" interoperability would allow mining operations to phase in additional automation with new machines that can communicate with the existing system, said Carter. "That is breaking down the barriers to innovation and accelerating the rate of innovation," he said. "Interoperability is a key part of innovation because very few brand new large-scale investments are going to go flick a switch [and reach] 100 per cent automation. That compounds the risk, so typically mining operations will pick certain parts of the processes such as haulage and slowly build up the lines of automation over the life of the mine."
But that is not the only reason why interoperability can generate a transformative and fast-tracked innovative environment.
"If I have open unfettered connectivity and data, then I have an innovative environment that is boundless," said Skinner.
One reason is that open shared protocols, guidelines and platforms invite participation from smaller players and startups, which leads to the kind of innovation that shakes up a sector with game-changing technologies, transformative nextgeneration thinking, revolutionary new business and operational models, as well as partnerships and players. "At the end of the day, you most often get innovation – at least genuine step-changing innovation – from small companies and startups," said Farrelly. "If you had an open interoperable technology environment, it means that someone can write software and it can more easily slot in to that environment. It used to be very difficult to write and deploy a mobile application 10 years ago. Now high school kids can develop an app for a smartphone. And it works in the operating system and works with other data."
Because interoperability is based on sharing, it also breaks down the barriers of the siloed and proprietary competitive mindset of the 20th century, replacing it with collaborative thinking. It can even bring together competitors for shared success.
A micro-example of this is Western Star's 40 ton 6900XD MBT-40 (short for multi-body transformer), which can switch truck bodies to transform from a water truck to a side dump trailer or a dump truck using hydraulic connections. The truck has a generic control panel in the cab that is overlaid with a new customized template whenever the truck switches to a new body, fully integrating it into the overall system. Three years ago, when Western Star's John Tomlinson came up with the idea, he knew the way to realize it was through collaboration with competitors. His company lacked the resources to go it alone. For a major manufacturer whose business model is selling different classes of trucks, a truck that can transform into three or more different classes is counterintuitive but that is not the case for a smaller company that is trying to get its competitive edge through cutting-edge innovation. "We're new to the off-road construction market so for us it's a good angle," said Tomlinson.
The first response he received was "a lot of sideways glances," said Tomlinson. But eventually he convinced Carco Industries and Palfinger to work on the project.
"They all signed a non-disclosure agreement. They agreed not to steal each other's ideas," he said. "This lets everybody who has a speciality put their specialty product on the truck. There are a lot of good ideas at everyone's place but when you bring them all together, you get something better. The trick is getting a platform that is neutral."
In information and communications technology, the neutral platform is interoperability.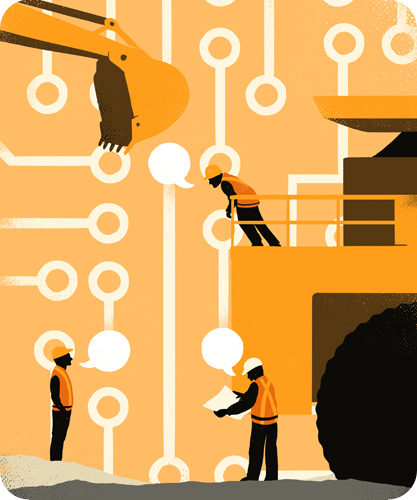 Getting there
Interoperability opens up a new realm of possibilities that will not become the standard without industry-wide collaboration to establish it. Such changes do not happen on their own. The Internet opened up thanks to the World Wide Web Consortium, which brought a diverse group of international players together to agree on common standards and open platforms. The Android mobile smart phone platform was the result of 84 organizations and manufacturers uniting in 2007 under the Open Handset Alliance consortium.
The mining industry has yet to take that leap. But that is changing. The industry is coming together through dozens of organizations and initiatives. AMIRA recently launched a second project called the Interoperability Round Table, which is open to mining companies, contract mine operators and government. "It is a great opportunity to get in on the ground floor on what could be a major initiative around interoperability," said Farrelly.
Last fall, the International Organization for Standardization (ISO) technical committee for mining initiated the creation of a new subcommittee dedicated to autonomous mining and invited Skinner, Canada's representative in the organization, to chair it. Another organization involved in interoperability, the Earth Moving Equipment Safety Round Table, is a global initiative that brings together major mining companies and OEMs to improve operability and maintainability designs, is developing criteria and protocols for proximity awareness and detection systems that would make it possible for all mobile equipment with sensor technology to communicate freely with each other.
A key player in the space since 2012 has been the Global Mining Standards and Guidelines Group (GMSG). Based in Canada and working under CIM's umbrella, the group was formed in 2012 to facilitate global mining collaboration on industry solutions and technologies. It has launched several working groups with interoperability-related focuses, including one that has reached a consensus between operators and OEMs defining mobile equipment onboard datasets that should be openly available to equipment owners in a realtime, read-only format. This has been a legacy issue and to reach the final consensus, GMSG held a series of five workshops that brought together large groups from both mining companies and OEMs with a neutral, third-party facilitator.
"We were able to bring people together in a safe, neutral environment with a shared focus of solving a long-standing issue," said Heather Ednie, GMSG's managing director, which has members from across the mining sector, including all the major mining companies and most OEMs.
"The industry faces a lot of challenges that have been created by the fact that technology development has been so proprietary, which is addressed by our guiding principle of openness," said Ednie. "The proprietary mindset has to be broken down and that's happening. At GMSG we see it just with the fact that we have everybody at the table now. Once all the guidelines, protocols or standards are in place, it will enable the business development and innovation required to springboard the industry forward."
Yes, innovation is happening across the mining industry. It is just that it has all been largely disconnected and made the industry's reputation of being slow to adopt new technologies hard to shake. It takes the zap of interconnectedness to energize innovation while reducing risk.
Interoperability is coming, say all the experts. It is just a matter of time, work and collaboration. But once it does, mining and its innovators will have a powerful force behind them. "In the past two years, the ball has started rolling," said Ednie.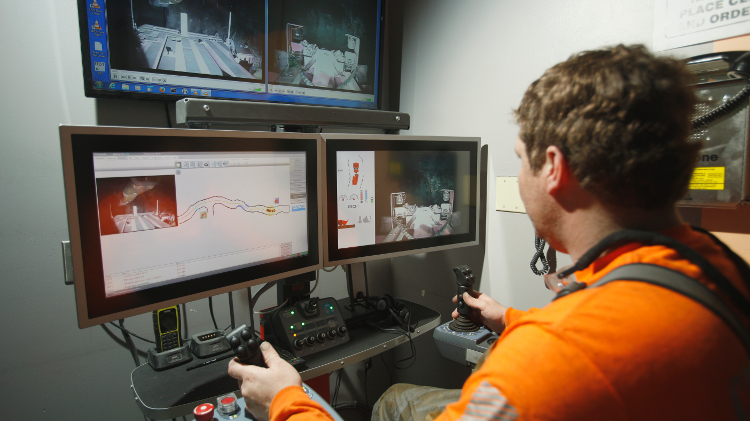 Alexandra Lopez-Pacheco
There is no doubt the future of mining is automation. But what does that look like, and how will we get there?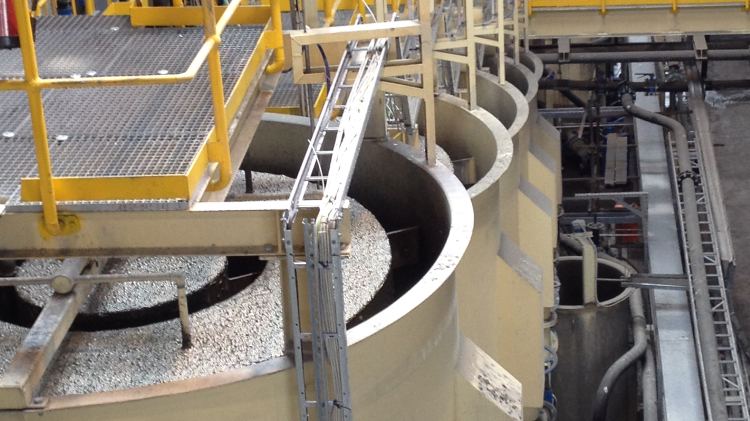 Eavan Moore
Buoyed by pressure to cut costs and improve recovery, new flotation technologies are on the rise